8 Tips for Setting Up A Work From Home Consulting Business
The new American dream of flexible hours, flexible location and no dress code is a reality now more than ever, and startups are popping up everyday. As a neophyte to self-employment, there are certain things I wouldn't have thought to do. Fortunately for me, I'm good at asking questions and surrounding myself with people who like to help. The following tips are in no particular order, but have most definitely helped me stay organized in the beginning months of working from home on a full-time basis.
1. Get Ready For Work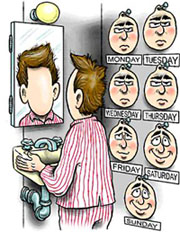 When working from home it's easy to remain in your comfy pjs. Don't do that. Take a shower, brush your teeth, get dressed, and for goodness sake, put on some deodorant!
You don't need to rush through the morning routine as if you actually have to leave your house at certain time, but it will help you get the day started and differentiate a weekday from a weekend day.
2. Set Up A Business Bank Account and Credit Card
Keeping small business finances separate from your personal finances will help you tremendously when it comes to tax time.
Open a separate bank account so you can deposit incoming payments as a business payment. While all the money you earn is technically all going to the same place, paying the business first to ensure expenses are covered is a safer bet. Then pay yourself.
Also, sign up for a credit card specifically for business expenses. Use this card to pay for everything, and at the end of the year, get a report that categorizes and organizes all of your expenses. Additionally, look for a credit card that gives you rewards where you need them. CreditCards.com has a nice credit card comparison chart to get you started.
3. Set Aside Money To Pay Your Taxes
If you are a 1099 consultant, you are now responsible for paying all taxes to the government. You pay the entire 15% social security and Medicare tax, any state and local taxes and will need to eventually pay your taxes quarterly since your company isn't taking them out for you.
Depending on local laws, a good rule of thumb is that you will owe about 20% of your earnings after all is said and done. Just like taxes are taken out of each paycheck when you work for a company, take 20% out of each check you receive from clients and put it aside. By getting into this habit early, you'll avoid scrambling to pay your tax bill in April.
4. Check Local Government Laws
As a resident of Philadelphia, every person who earns income through a 1099 must obtain a Philadelphia Business Privilege License – an initial lifetime fee of $300. I would have never known this one without my accountant's help. In reading through the website, this even applies to businesses located outside of Philadelphia, but conduct business within the city limits. Who knew?
My advice is to check out the local laws with any client you plan on doing business with, as there may be some unexpected taxes and licenses you'll need.
As a side note, the ONLY way I could register online for the PBPL was through IE – how antiquated!
5. Tell Everyone You're Starting Your Own Gig
The biggest fear I had going into self-employment was how I was going to generate business. The best thing I did for myself was to tell all of my friends, people I've done business with in the past, family, local coffee shop owner, etc., that I started my own consulting business. One of my friends that I play kickball with who works at a rental car company connected me to one of her customers – completely random, but it might turn into something.
My point is, you never know who will be in need of your services and you never know who might bring about a connection for you, so make sure everyone knows what you're up to.
6. Create An Environment Conducive For Working
Working from your bed will get old very fast. First of all your back and neck will start to hurt. Secondly, it's hard to be creative when you're in an almost sleeping position. Finally, you'll feel like you never leave your bed and will probably hate sleeping in it.
Find a space in your place, either an entirely separate room or an area dedicated to work, where you can put a desk and call your work area. Next, get an appropriate desk setup. I originally started out with a tiny desk:

I wouldn't recommend this! I upgraded to a much larger IKEA desk space, but my goal is to build a standing desk, specifically this standing desk. I figure I've spent enough time sitting, and we all know that sitting sends you to the grave faster.
The idea is to create an environment where you can concentrate, be creative and then leave when the work day is over.
7. Keep To A Routine
When initially starting your consulting business, you're going to have a surplus of free time. By creating a routine, you will minimize the temptation to watch TV all day. It starts out like this, "Oh Ellen is on at 3. I haven't been able to watch her show live since college. I'll just watch that today." Then you get excited for Ellen to come on and sit down 30 minutes before her show and find a new show to watch. The cycle continues. I tell you this because I've watched TV all day, and it wasn't the weekend.
I've settled into the following routine: Watch the news in the morning while eating breakfast and getting ready (Tip #1 – Get ready). Then I head up to my office (Tip #6 – Create a Workspace) to check my email, check the Twitters and read through industry news. Next I get into any work I need to complete. After a few hours of reading and working, it's time for lunch (sometimes I throw in an afternoon workout). Then I get back to business. Around 3PM, it's off to track practice. Finally, I return home and finish up anything I needed to get done for the day.
I feel accomplished and not as bad when I want to sit down and watch evening TV. I'm not saying you can't watch Ellen at 3PM; I'm saying make a schedule, and stick to it.
8. Schedule Social Interaction
My final tip is to make sure you directly interact with people. It sounds silly, but interacting with people in the flesh keeps you sane. Talking to my cat is not the same as having a conversation with a person – mainly because she gives me a look of death to leave her alone. Exhibit A: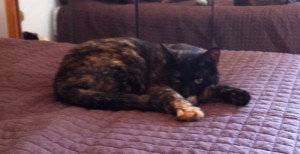 Schedule in time to go to a coffee shop or have lunch with a friend. I joined kickball and volleyball teams 🙂 Face to face time with people reminds you that you're human.
While these tips aren't pertinent to the success of a small business, they are extremely helpful. I'm grateful for all of the advice and help I have received this far and plan to pay it forward when the time is right.
Do you have any tips to add to this list? Feel free to drop me a line in the comments section.